- HAND OPERATED DIAPHRAGM TYPE GAS COMPRESSORS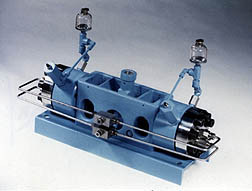 FOUR MODELS AVAILABLE
P/N 46-13310-2 10,000 PSI (700 BAR) SINGLE-END
P/N 46-13315-2 20,000 PSI (1400 BAR) SINGLE-END
P/N 46-13320-2 10,000 PSI (700 BAR) DOUBLE-END
P/N 46-13325-2 20,000 PSI (1400 BAR) TWO-STAGE
SPECIFICATIONS AND ORDERING DATA
.
SINGLE END
DOUBLE END*
TWO STAGE *
CATALOG NUMBER
46-13310-2
46-13315-2
46-13320-2
46-13325-2
MAXIMUM WORKING PRESSURE (PSI)
10,000
20,000
10,000
20,000
MINIMUM SUCTION PRESSURE (PSI)**
700
1,450
700
250
PLUNGER DIAMETER (IN)
9/16
3/8
9/16
9/16,3/8
STROKE, NOMINAL (IN)
1.0
1.0
1.0
1.0
VOLUME DISPLACED AT ATMOS. PRESSURE
(CU. IN./STROKE)
.25
.11
.50
.25
WEIGHT (LB)
NET/SHIPPING
60/80
103/123
108/128
118/138
OVERALL DIMENSIONS
L x W x H (IN)
10 x 20 x 13.5
10 x 28 x 13.5
MOUNTING DATA
4 HOLES, 11/16 DIAMETER ON
5 x 17-3/4 CENTERS
4 HOLES, 11/16 DIAMETER ON 5 x 26-1/8 CENTERS
HANDLE LENGTH (IN)
40
PORTS, WORKING FLUID
INLET;OUTLET
1/4 O. D. TUBING;1/4 O. D. TUBING
1. 50 Hz motor available at extra cost.
2. Interconnecting tubing supplied with double end and two stage units.
3. Superpressure tubing must be used.
Minimum gas suction pressure indicated is that pressure required to attain the maximum
working pressure.
Gas Suction pressure can be as low as 150 psig (minimum required for full diaphragm flexure)
but with appropriate reduced discharge pressure (based on compression ratio or 14 to 1 for each
stage.)
1. All compressors are supplied with a complete set of standard check valves. Use the above chart for replacements or special order only.
2. Special 1/4 inch NPT.F inlet adapter (Cat. No. 46-16705) available for use on liquid service inlet check valve (Cat. No. 44-14100).
3. Double ball check valves are used for particularly difficult to handle liquids and are inter-changeable with check valves furnished for normal liquid service.
Also used where

ultra-pure cleaning

is required.
Specifications subject to change, consult manufacturer.
SPECIFICATIONS AND ORDER INFORMATION
| Catalog Number | Product Name | Product Description | Add To Cart |
| --- | --- | --- | --- |
| 46-13310-2 | 10,000 psi (700 bar) Single-End Unit | Hand Operated Diaphragm Type Compressor | Add To Cart |
| 46-13315-2 | 20,000 psi (1400 bar) Single-End Unit | Hand Operated Diaphragm Type Compressor | Add To Cart |
| 46-13320-2 | 10,000 psi (700 bar) Double-End Unit | Hand Operated Diaphragm Type Compressor | Add To Cart |
| 46-13325-2 | 20,000 psi (1400 bar) Two-Stage Unit | Hand Operated Diaphragm Type Compressor | Add To Cart |
Additional Ordering Information

Create RFQ Manually