- REMOTE DIAPHRAGM GAS COMPRESSOR HEADS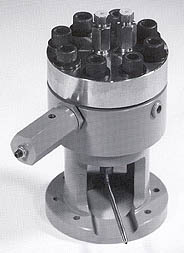 REMOTE DIAPHRAGM GAS
COMPRESSOR HEADS
THREE MODELS AVAILABLE:
P/N 46-14132 (6,000 PSI - 400 BAR)
P/N 46-14134 (10,000 PSI - 700 BAR)
P/N 46-14136 (30,000 PSI -2000 BAR)
FEATURES
Functioning Distance up to 50 Ft.
Permits Operation Behind Protective Barriers
Contamination-Free Performance
Leak-Free Compression
Driven by Single End Plunger Pump (Hand, Air, or Motor Operated)
HOW IT WORKS
The Remote Head incorporates the same materials of construction and is similar in design to the well proven Diaphragm Compressor Head. The Remote Head can be operated by a Single-End, Air Operated, Hand Operated, or Motor Driven Plunger Pump. The pumps are connected to the Remote Head by a single length of 1/4" diameter tubing.
Gas compression takes place at the diaphragm by
liquid-column
pressure pulses transmitted from a separately located pump. This pulsing action causes the suction and discharge of gas in the Remote Head (the unit is capable of taking suction pressures of up to its discharge pressure, with compression ratios of up to 14 to 1). Excess oil in the chamber beneath the diaphragm is relieved at the forward end of each piston stroke by action of the pressure limiting device. However, under normal operation conditions, oil does not flow through the pressure limiter.
Gas discharge flow rates are controlled by the inlet gas suction pressure available to the head, the length of the tubing from the pump to the head, the flow available from the pump, oil and gas temperatures, and the type of oil used in the pump.
SPECIFICATIONS AND ORDERING DATA
CATALOG NUMBER
46-14132
46-14134
46-14136
MAXIMUM WORKING PRESSURE (PSI)
6,000
10,000
30,000
MINIMUM SUCTION PRESSURE (PSI)
150
150
150
WEIGHT (LB)
NET/SHIPPING
64/95
37/55
64/95
OVERALL DIMENSIONS
L x W x H (IN)
10.5 x 6 X 9.5

9 x 5.5 x 9.5
10.5 x 6 x 10
MOUNTING DATA
4 HOLES, 11/32 DIAMETER ON 2.375 INCH RADIUS
PORTS, WORKING FLUID
INLET;OUTLET
1/4 O. D. TUBING; 1/4 O. D. TUBING
OPERATING PUMP TYPE
HAND
AIR
MOTOR
HAND
AIR
MOTOR
OPERATING PUMP CATALOG NUMBER
46-12130-1
46-13725-2
46-12233-1
46-12155-1
46-13720-2
46-12257-1
OPERATING PUMP MAX. WORKING PRESSURE
10,000
10,000
10,000
20,000
30,000
20,000
NOTES:
1. Operating pump an connection tubing must be ordered separately.
2. High pressure tubing must be used.
CLICK HERE FOR DIAPHRAGM TYPE GAS COMPRESSOR CHECK VALVE ORDERING INFORMATION .
SPECIFICATIONS AND ORDER INFORMATION
Additional Ordering Information

Download the Manual

Create RFQ Manually