- 2-9/16" SHAKING ASSEMBLIES

SHAKING ASSEMBLIES
: 2 9/16-IN O.D. MICRO SERIES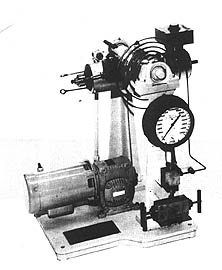 These units are used for research at
high pressures
when working with small quantities of materials.
It is frequently desired to work with reaction vessels of different volumes so as to obtain gas pressure balances of convenient magnitude for quantitative measurements. All micro reaction vessels have the same outside dimensions so as to be interchangeable in the same heating jacket and shaker.
If desirable, reaction vessels can be purchased separately.
Pyrex liners
can be supplied as an extra when the research problem is of such a nature as to make their use desirable. They are used to eliminate the possibility of contaminating the specimen or interfering with the reaction due to contact with the body of the vessel. Corrosion-resistant metal liners are not generally supplied since it is more economical to order vessels made entirely of the desired metal.
For most high-pressure experimental work, the shaking pressure vessel is advantageous because it is not subject to leakage around a packing joint, is less costly to obtain in the smaller sizes, It is commonly used for obtaining initial process data.
The Micro Series
Superpressure Shaking Assembly
, as illustrated, includes on reaction vessel as listed in the ordering information table, heating jacket with 1000-watt, 115-volt or 230-volt, single phase heater with infinitely variable heater control switch, cast-iron base (20 ½" x 16 ½"), 1/6-hp 115/230-volt, 60Hz (50 Hz models will be provided at additional cost, please specify), single-phase, 36-r.p.m., motor (see Note 2), single-pedestal shaking mechanism, pressure gauge, connecting spiral to the reaction vessel, and necessary valves and fittings. The pressure vessel tilts through an angle of 30 degrees at 36 cycles per minute. Explosion-proof motors can be supplied.
Weight: net, approximately 250 Lbs.; Shipping , approximately 300 lbs.
VALVES AND FITTINGS
Valves and fittings on the shaking mechanisms are of the 30,000 psi class.
Included are one combined inlet and bleeder valve; one pressure gauge (see note 1), one three-way connector, one gauge connector, one ¼-in o.d. tubing spiral, and one shut off valve.
NOTES
NO 1-Pressure gauge with solid front, hinged back and shatter-proof glass for increased safety. Maximum reading approximately 50% above the rating of the vessel at 100° F.
NO 2-When ordering, specify heating jacket for 115 or 230 volt, single phase.
NOTE: Explosion-proof motors are supplied with 115/230 volt, single phase, without on-off switch.
SPECIFICATIONS AND ORDER INFORMATION
| Catalog Number | Product Name | Product Description | Add To Cart |
| --- | --- | --- | --- |
| 40-12150-1 | Shaking Assembly 2-9/16 " O.D. Type A made of 316 Stainless Steel | 1 1/2" I.D., 10 1/2 Debth, 1000 Watts, 300 ml without liner | Add To Cart |
| 40-12155-1 | Shaking Assembly 2-9/16 " O.D. Type B made of 316 Stainless Steel | 1 1/2" I.D., 10 1/2 Debth, 1000 Watts, 300 ml without liner | Add To Cart |
| 40-12180-1 | Shaking Assembly 2-9/16" O.D.Type A made of 347 Stainless Steel | 1 1/2" I.D., 10 1/2 Debth, 1000 Watts, 300 ml without liner | Add To Cart |
| 40-12185-1 | Shaking Assembly 2-9/16" O.D.Type B made of 347 Stainless Steel | 1 1/2" I.D., 10 1/2 Debth, 1000 Watts, 300 ml without liner | Add To Cart |
| 40-12210-1 | Shaking Assembly 2-9/16" O.D.Type A made of 410 Stainless Steel | 1 1/2" I.D., 10 1/2 Debth, 1000 Watts, 300 ml without liner | Add To Cart |
| 40-12215-1 | Shaking Assembly 2-9/16" O.D.Type B made of 410 Stainless Steel | 1 1/2" I.D., 10 1/2 Debth, 1000 Watts, 300 ml without liner | Add To Cart |
| 40-12240-1 | Shaking Assembly 2-9/16" O.D.Type A made of 4340 Steel | 1 1/2" I.D., 10 1/2 Debth, 1000 Watts, 300 ml without liner | Add To Cart |
| 40-12245-1 | Shaking Assembly 2-9/16" O.D.TypeB made of 4340 Steel | 1 1/2" I.D., 10 1/2 Debth, 1000 Watts, 300 ml without liner | Add To Cart |
| 40-12350-1 | Shaking Assembly 2-9/16" O.D. Type A made of 316 Stainless Steel | 1 5/16" I.D., 8 1/4 Debth, 1000 Watts, 183 ml without liner | Add To Cart |
| 40-12355-1 | Shaking Assembly 2-9/16" O.D. Type B made of 316 Stainless Steel | 1 5/16" I.D., 8 1/4 Debth, 1000 Watts, 183 ml without liner | Add To Cart |
| 40-12380-1 | Shaking Assembly 2-9/16" O.D.Type A made of 347 Stainless Steel | 1 5/16" I.D., 8 1/4 Debth, 1000 Watts, 183 ml without liner | Add To Cart |
| 40-12385-1 | Shaking Assembly 2-9/16" O.D.Type B made of 347 Stainless Steel | 1 5/16" I.D., 8 1/4 Debth, 1000 Watts, 183 ml without liner | Add To Cart |
| 40-12410-1 | Shaking Assembly 2-9/16" O.D.Type A made of 410 Stainless Steel | 1 5/16" I.D., 8 1/4 Debth, 1000 Watts, 183 ml without liner | Add To Cart |
| 40-12415-1 | Shaking Assembly 2-9/16" O.D.Type B made of 410 Stainless Steel | 1 5/16" I.D., 8 1/4 Debth, 1000 Watts, 183 ml without liner | Add To Cart |
| 40-12440-1 | Shaking Assembly 2-9/16" O.D.Type A made of 4340 Steel | 1 5/16" I.D., 8 1/4 Debth, 1000 Watts, 183 ml without liner | Add To Cart |
| 40-12445-1 | Shaking Assembly 2-9/16" O.D.TypeB made of 4340 Steel | 1 5/16" I.D., 8 1/4 Debth, 1000 Watts, 183 ml without liner | Add To Cart |
| 40-12550-1 | Shaking Assembly 2-9/16" O.D. Type A made of 316 Stainless Steel | 1 1/32" I.D., 8 1/4 Debth, 1000 Watts, 100 ml without liner | Add To Cart |
| 40-12555-1 | Shaking Assembly 2-9/16" O.D. Type B made of 316 Stainless Steel | 1 1/32" I.D., 8 1/4 Debth, 1000 Watts, 100 ml without liner | Add To Cart |
| 40-12580-1 | Shaking Assembly 2-9/16" O.D.Type A made of 347 Stainless Steel | 1 1/32" I.D., 8 1/4 Debth, 1000 Watts, 100 ml without liner | Add To Cart |
| 40-12585-1 | Shaking Assembly 2-9/16" O.D.Type B made of 347 Stainless Steel | 1 1/32" I.D., 8 1/4 Debth, 1000 Watts, 100 ml without liner | Add To Cart |
| 40-12610-1 | Shaking Assembly 2-9/16" O.D.Type A made of 410 Stainless Steel | 1 1/32" I.D., 8 1/4 Debth, 1000 Watts, 100 ml without liner | Add To Cart |
| 40-12615-1 | Shaking Assembly 2-9/16" O.D.Type B made of 410 Stainless Steel | 1 1/32" I.D., 8 1/4 Debth, 1000 Watts, 100 ml without liner | Add To Cart |
| 40-12640-1 | Shaking Assembly 2-9/16" O.D.Type A made of 4340 Steel | 1 1/32" I.D., 8 1/4 Debth, 1000 Watts, 100 ml without liner | Add To Cart |
| 40-12645-1 | Shaking Assembly 2-9/16" O.D.TypeB made of 4340 Steel | 1 1/32" I.D., 8 1/4 Debth, 1000 Watts, 100 ml without liner | Add To Cart |
| 40-12750-1 | Shaking Assembly 2-9/16" O.D. Type A made of 316 Stainless Steel | 3/4" I.D., 6 Debth, 1000 Watts, 43 ml without liner | Add To Cart |
| 40-12755-1 | Shaking Assembly 2-9/16" O.D. Type B made of 316 Stainless Steel | 3/4" I.D., 6 Debth, 1000 Watts, 43 ml without liner | Add To Cart |
| 40-12780-1 | Shaking Assembly 2-9/16" O.D.Type A made of 347 Stainless Steel | 3/4" I.D., 6 Debth, 1000 Watts, 43 ml without liner | Add To Cart |
| 40-12785-1 | Shaking Assembly 2-9/16" O.D.Type B made of 347 Stainless Steel | 3/4" I.D., 6 Debth, 1000 Watts, 43 ml without liner | Add To Cart |
| 40-12810-1 | Shaking Assembly 2-9/16" O.D.Type A made of 410 Stainless Steel | 3/4" I.D., 6 Debth, 1000 Watts, 43 ml without liner | Add To Cart |
| 40-12815-1 | Shaking Assembly 2-9/16" O.D.Type B made of 410 Stainless Steel | 3/4" I.D., 6 Debth, 1000 Watts, 43 ml without liner | Add To Cart |
| 40-12840-1 | Shaking Assembly 2-9/16" O.D.Type A made of 4340 Steel | 3/4" I.D., 6 Debth, 1000 Watts, 43 ml without liner | Add To Cart |
| 40-12845-1 | Shaking Assembly 2-9/16" O.D.TypeB made of 4340 Steel | 3/4" I.D., 6 Debth, 1000 Watts, 43 ml without liner | Add To Cart |
Additional Ordering Information

Create RFQ Manually