- HEATING JACKETS FOR REACTION VESSELS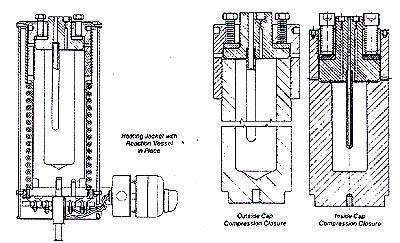 HEATING JACKETS
-
REACTION VESSELS
Heating Jackets are self-contained units which consist of inner and outer steel shells, a heating unit, a device which holds the reaction vessel in place, and a
thermocouple port
with thermocouple guide tube. (Thermocouple is not supplied with jacket). To remove the reaction vessel, operator need loosen only one bolt at the bottom of the jacket and lift the vessel out. Removal of the reaction vessel does not disturb the heating element or the insulation.
Since the reaction vessel is held in the heating jacket only at the bottom, both the vessel and the heating jacket are free to expand separately during the heating cycle.
There are three sizes of shakers available. Each size series has a heating system specially designed for maximum efficiency in the shaker in which it is used. The 2-9/16-in. o. d. Micro Series heating jackets are constructed to include a tubular immersion heater with a radiation shield and an infinitely variable heater control switch.
The 4-3/8-in. Series heating jacket contains two heating elements, depending on its size. The heating elements are interlaced so as to heat the entire length of the reaction vessel, should less than the full number of elements be used at any one time.
ELECTRICAL CHARACTERISTICS: Heating jackets are supplied for either 115 or 230 volts, depending upon the power rating.
Please note that electrical equipment wound for 115 volts requires twice the current needed for equipment wound for 230 volts.
It is suggested that this factor be discussed with your electrical department before ordering. when orders are placed for equipment other than standard, the customer should state voltage required for the heating jacket.
STANDARD CLOSURES
Compression Closure-Outside-cap Type (for Use on Micro, 4-3/8-In, Series Reaction Vessels)- Consists of five parts: (1) outside cap that screws onto the body of the reaction vessel; (2) thrust bolts; (3) hardened-steel thrust ring that keeps the thrust bolts from marring the pressure head; (4) inner pressure head; (5) gasket. The cap has two holes for the insertion of a tommy bar for loosening, and has two tapped holes for eyebolts for use in lifting the vessel from the heating jacket. Four vent holes in the cap provide relief of pressure in the event of gasket failure or leakage.
Gaskets are of two types: (1) a flat copper or other metal gasket that is set into a groove on the underside of the head; (2) a "delta" gasket. Flat gaskets are used for most services up to 15,000 psi.; "delta" gaskets for extreme pressures. As pressure in the vessel increases, the pressure acts on the inside of the "delta" and changes the angle of contact between the gasket and its seals. This slight change in angle with rise in pressure tends to force the "delta" ring tightly against its seat and thereby insures a self-energized joint.
See also Notes on Temperature Control .
SPECIFICATIONS AND ORDER INFORMATION
| Catalog Number | Product Name | Product Description | Add To Cart |
| --- | --- | --- | --- |
| 43-12111 | Heating Jackets for 2 9/16 Micro Series Reaction Vessels | 115 Volt,1000 Watts, Single Phase heater used with any 2 9/16 O.D. Micro Series Reaction Vessels. | Add To Cart |
| 43-12113 | Heating Jackets for 2 9/16 Micro Series Reaction Vessels | 230 Volt,1000 Watts, Single Phase heater used with any 2 9/16 O.D. Micro Series Reaction Vessels. | Add To Cart |
| 43-14110-1 | Heating Jackets for 4 3/8 Series Reaction Vessels 10" Depth | 115 Volt, 2000 Watt, Single Phase heater used with reaction vessels 41-14120 thru 41-14180, 41-14360 thru 41-14420, 41-14600 thru 41-14660, and 41-14930 thru 41-14930 | Add To Cart |
| 43-14112-1 | Heating Jackets for 4 3/8 Series Reaction Vessels 10" Depth | 230 Volt, 2000 Watt, Single Phase heater used with reaction vessels 41-14120 thru 41-14180, 41-14360 thru 41-14420, 41-14600 thru 41-14660, and 41-14930 thru 41-14930 | Add To Cart |
| 43-14210-1 | Heating Jackets for 4 3/8 Series Reaction Vessels 21" Depth | 115 Volt, 3000 Watt, Single Phase heater used with reaction vessels 41-14195 thru 41-14225, 41-14435 thru 41-14495, 41-14675 thru 41-14735, and 41-14950 thru 41-14980 | Add To Cart |
| 43-14212-1 | Heating Jackets for 4 3/8 Series Reaction Vessels 21" Depth | 230 Volt, 3000 Watt, Single Phase heater used with reaction vessels 41-14195 thru 41-14225, 41-14435 thru 41-14495, 41-14675 thru 41-14735, and 41-14950 thru 41-14980 | Add To Cart |
| 43-14310-1 | Heating Jackets for 4 3/8 Series Reaction Vessels 32" Depth | 115 Volt,4000 Watt, Single Phase heater used with reaction vessels 41-14270 thru 41-14330, 41-14510 thru 41-14570, 41-14750 thru 41-147810. | Add To Cart |
| 43-14312-1 | Heating Jackets for 4 3/8 Series Reaction Vessels 32" Depth | 230 Volt,4000 Watt, Single Phase heater used with reaction vessels 41-14270 thru 41-14330, 41-14510 thru 41-14570, 41-14750 thru 41-147810. | Add To Cart |
Additional Ordering Information

Create RFQ Manually