- LIQUID SERVICE SAFETY VALVES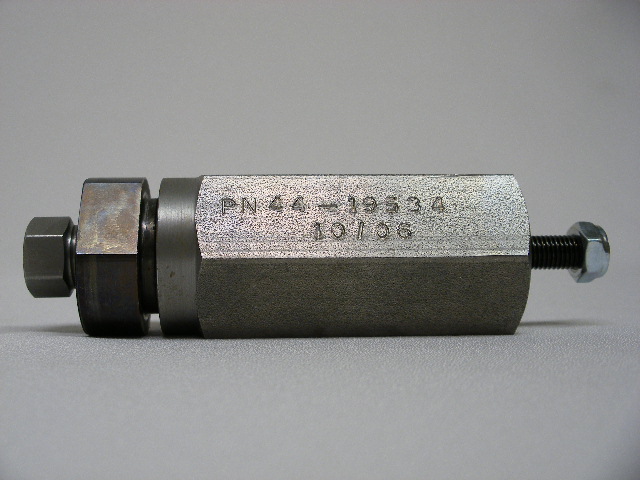 LIQUID SERVICE SAFETY VALVES

(1/4 INCH TUBING ONLY)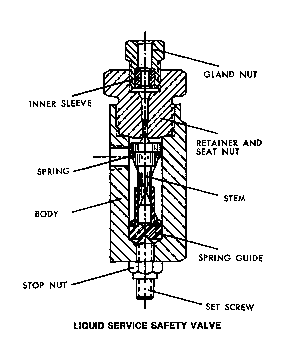 These
inexpensive, highly efficient valves
constructed in a single unit and intended for small flows only, are suitable for pressures of 3,000 to 50,000 psi and are to be used only for safety reasons; they are not intended for use as pressure-relief or pressure-controlling valves.

Four orifice sizes are available with connecting lines for ¼ inch tubing. The valves are constructed of steel bodies finished with black oxide and have stainless steel stems and seats. Adjustment is easily accomplished using a hexagon wrench on the set screw which is locked by a stop nut.

All valves are provided with the necessary gland nuts and sleeves of 416 stainless steel. Approximate weight is 2 pounds each.

| | | | | | |
| --- | --- | --- | --- | --- | --- |
| CATALOG NUMBER | 44-19531 | 44-19532 | 44-19534 | 44-19536 | 44-19538 |
| PRESSURE RATING | 3,000-7,500 psi | 5,000-14,000 psi | 6,000-20,000 psi | 16,000-30,000 psi | 20,000-50,000 psi |
| ORIFICE DIAMETER (IN.) | .125 | .093 | .087 | .062 | .046 |
| STEM | 64079000200 | 64079000200 | 64079000200 | 64079000200 | 64079000200 |
| RETAINER SEAT | 63013000405 | 63013000404 | 63013000403 | 63013000402 | 63013000401 |
| COMPRESSION SPRING | P1632014900 | P1632014900 | P1632014900 | P1632014900 | P1632014900 |
| REPLACEMENT KIT OF STEM, RETAINER, SEATNUT, AND COMPRESSION SRING | 44-19539 | 44-19540 | 44-19542 | 44-19544 | 44-19546 |
SPECIFICATIONS AND ORDER INFORMATION
Additional Ordering Information

Create RFQ Manually