- DIAL PRESSURE GAUGES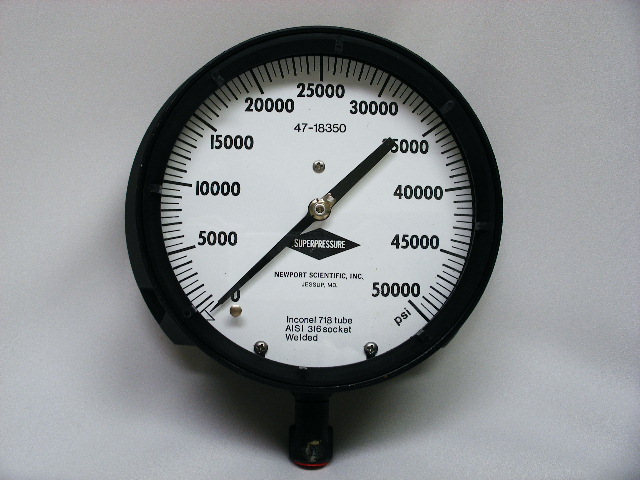 DIAL PRESSURE GAUGES
These gages are constructed of high quality materials and possess features that assure maximum safety.
The gage case has a solid front with one small opening for accommodating the pointer shaft. The thin, sheet metal back is hinged so as to relieve the pressure should an explosion occur in the gage. Thus, if the Bourdon tube should fail, the explosion would be directed away from the operator. Supplied with back mounting flange.


All parts coming in contact with the fluids handled are made of stainless steel. The Bourdon Tube is bored from solid stock and has threaded and sealed tips. The socket is made of stainless steel, has a bottom connection, and is provided with wrench flats.
These gages through the 20,000 psi range have 1/2-in. male straight pipe threads as illustrated. Experience has shown that a straight thread used with a gasket is the safest pressure-gage connection for high-pressure work. The gage is easily removed and replaced without stretching or bursting the fittings as may be experienced with tapered pipe threads.

The 30,000 to 100,000 psi gages have 1/4-in. HP female openings for ease of sealing at these extreme pressures, and are furnished complete with necessary gland nut and sleeve.
For maximum accuracy, a dial pressure gage should not be used at over two-thirds of its scale reading.
CATALOG NUMBER
PRESSURE RANGE (PSI)
6-IN. DIAMETER DIALS
47-18305
0-5,000
47-18310
0-10,000
47-18315
0-15,000
47-18320
0-20,000
47-18330*
0-30,000
47-18340*
0-40,000
47-18350*
0-50,000
47-18380*
0-80,000
47-18390*
0-100,000
*Furnished with 1/4 HP Female Connector. To Adapt to 1/2-in Special Straight Pipe Thread (NPSL) up to 50,000 psi, order the 45-17360 Gage Adapter.

REPLACEMENT METAL GASKETS FOR GAUGES LISTED ABOVE
49-17810 Copper Gasket
49-17820 Stainless Steel Gasket
NOTE: Each Fitting Designed for Use with Pressure Gauges is Supplied with a Stainless Steel Gasket.
ELECTRIC CONTACT GAUGES CAN BE SUPPLIED ON SPECIAL ORDER
NOTE: The Gauges with 1/2-in. Special Straight Pipe Thread Have Locknut Series Straight Pipe Thread (NPSL).
SAFETY-BACK FEATURE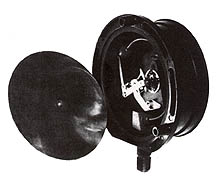 (Should the Bourbon tube of the gauge burst for any reason, the back of the gauge is free to relieve the pressure. Since the case has a solid front, expanding gas cannot blow out the front of the case and injure the operator.)
SPECIFICATIONS AND ORDER INFORMATION
Additional Ordering Information

Create RFQ Manually