- LINE FILTERS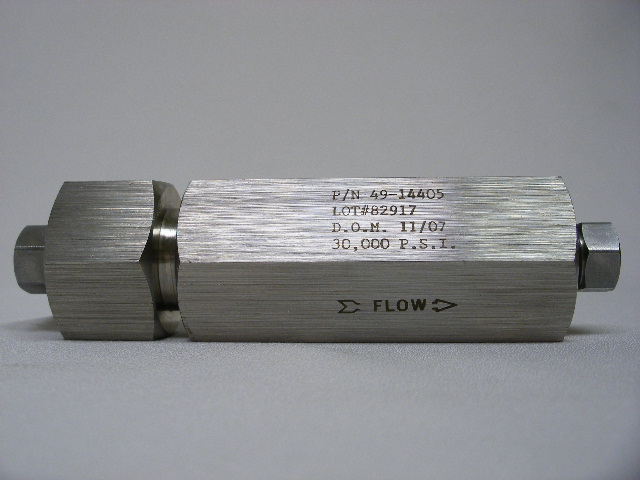 LINE FILTERS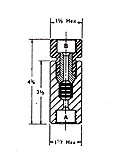 The 30,000 psi filter will handle 2.5 SCFH of air with a 5 psi pressure drop to atmospheric pressure or 3 ¼ gallons of water per hour under the same conditions. This filter is not for pressure drops exceeding 250 psi because the filter elements will be deformed at higher pressure. This filter is provided with sintered stainless steel discs that remove particles of 5 microns or larger. Bodies and closure nuts are constructed of 316 stainless steel. All filters furnished with gland nuts and sleeves of 416 stainless steel.
30,000 PSI
CATALOG NUMBER
(30,000 psi)
A-B*


PORT


49-14405
1/4 HP
1/8
49-14409
3/8 HP
5/32
49-14412
9/16 HP
1/4
49-14490 Replacement Discs, set of four
See UNION-TYPE SUPERPRESSURE CONNECTOR DIMENSIONS for details of openings.
SPECIFICATIONS AND ORDER INFORMATION
| Catalog Number | Product Name | Product Description | Add To Cart |
| --- | --- | --- | --- |
| 49-14405 | 30K PSI, 1/4 HP, 1/8 Port Line Filter | All filters furnished with 316SS gland nuts and sleeves | Add To Cart |
| 49-14409 | 30K PSI, 3/8 HP, 5/32 Port Line Filter | All filters furnished with 316SS gland nuts and sleeves | Add To Cart |
| 49-14412 | 30K PSI, 9/16 HP, 1/4 Port Line Filter | All filters furnished with 316SS gland nuts and sleeves | Add To Cart |
Additional Ordering Information

Create RFQ Manually